Located in Akaroa on the Banks Peninsula, Akaroa Museum is part of the Art Gallery Unit of Christchurch City Council. The boutique museum collects, cares for, researches and displays heritage related to Banks Peninsula.
A popular tourist attraction and educational resource, the Akaroa Museum may not be the obvious candidate to lease a Kiwi Box refrigerated container. However, in 2011 the two organisations combined their efforts to great effect to help grow the museum's collection.
The Akaroa Museum's challenge
Daniel Smith, Collections Manager for the Akaroa Museum, sets the scene for their collaboration with Kiwi Box: "One of our roles is to develop the historical record related to Banks Peninsula, so we're always looking at opportunities to add to the Museum's collection, which covers books, archives, artworks, photographs, and all sorts of objects related to everyday life and work.
"When we add to the collection, we have to be careful that no harmful organisms are piggy-backing into the Museum store, e.g. moulds or insects like borer, because these could damage our established collection.
"In 2011 we were offered furniture that was interesting to us, not because it was fine antique furniture, but for the opposite reason — because it was very ordinary, with one piece very home-made and naïve. The provenance was very good, linked very strongly to an early Akaroa cottage and two families over several generations. So, we accepted the donation, but there was evidence of borer infestation, although it was hard to tell if it was active or not.
"… after consulting a museum conservator and doing quite a bit of research, I developed a plan to freeze the furniture and kill any potential live beetle that way, before bringing the pieces into the Museum."
The Kiwi Box solution
After deciding on freezing as his preferred method to eradicate any insects in the furniture, Daniel realised a refrigerated shipping container would be necessary due to the size of the collection.
An internet search for suppliers of cold storage served up multiple Christchurch companies, and he narrowed his search down to Kiwi Box and one of their 20ft refrigerated shipping containers because "they could offer a freezer unit that worked on a domestic supply," Daniel explained.
How the Kiwi Box refrigerated shipping container was used
Daniel speaks about the lengths his team went to in order to protect the furniture and ensure the procedure was effective so as not to risk infestation of the existing Akaroa Museum collection…
"We sealed all the pieces we wanted to freeze in polythene (actually double-wrapped), and simply loaded them into the container. We also took the opportunity to do some housekeeping and wrapped up and froze some fur garments which are very susceptible to moth infestation.
"After loading the container and closing it up, I slowly lowered the temperature over several days. For the process to work you need to freeze the pieces below -20°C for 48 hours, then bring the temperature up again until you reach normal room temperature. Any insects not killed will think it is spring, become active, and move to the surface. You then repeat freeze for another 48-hour period."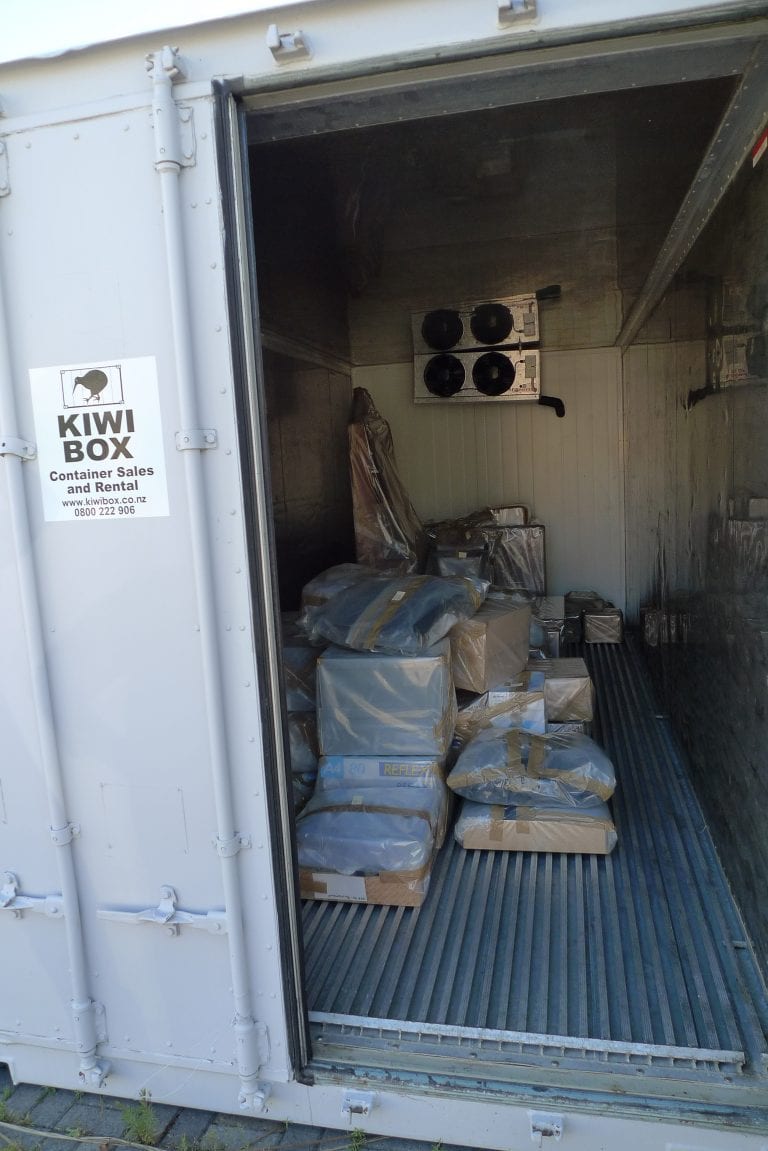 Putting the freeze on the borer
Following their punctilious efforts using a refrigerated shipping container to rid the furniture of insects without damaging it, the Akaroa Museum staff were more than happy with the results.
Daniel said, "Of course, we still have borer holes in the objects, but several years on, no evidence of the insects. So, I'd deem that very successful. The process was simple and pesticide-free, rids the risk of insect infestation in the Museum collection, and was pretty reasonably priced. In fact, we hired another container in 2013 for a similar project.
"I've also shared the experience with several colleagues in the museum sector. I know that they used my experience as a case study at the Cultural Recovery Centre at the Air Force Museum at Wigram, where several museum collections were stored and catalogued after various museum buildings in the region were damaged by earthquakes. They were similarly pleased with the result."
A hassle-free shipping container hire experience
When asked how Kiwi Box was to deal with as a company, Daniel commented that the process was very easy, with co-owner Greg Flynn organising everything from his end very efficiently. "I was very pleased with the container itself. It was very tidy, and the interior was immaculately clean. The freezer unit was easy to use and set," Daniel reported.
If you think hiring a refrigerated shipping container from Kiwi Box could help you achieve your business goals, drop Greg and his brother Steve a line — they'd be happy to help.
To learn more about Akaroa Museum on Banks Peninsula, check out their website.